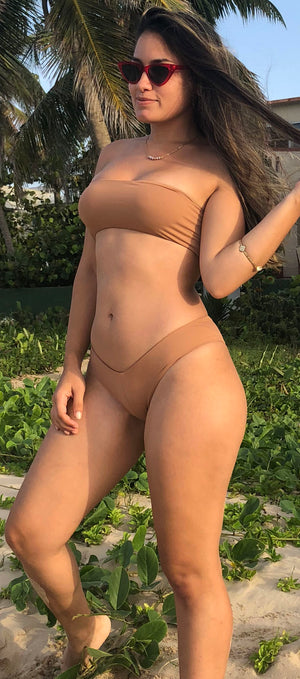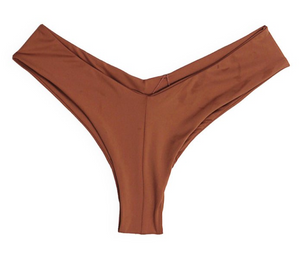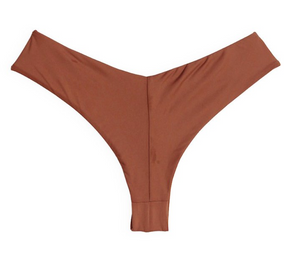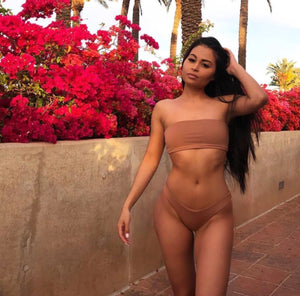 DETAILS + HIGHLIGHTS
The seamless style has an adjustable front tie knot and thick straps for optimal comfort. You'll set sail in style and catch a tan that never fades.
Moderate coverage
Thick straps
Tie cleavage gathering
Seamless
Bottoms up! These flirty bottoms have a hi-leg cut to show off your legs and minimal coverage for one cheeky style.
Cheeky coverage
Low-waist fit
Hi-leg cut
Seamless
CONTENT + CARE
Material: 80% nylon, 20% spandex.
Our suits are made to last for many years but there are a couple things you can do to make sure your suit stays fabulous. 
Rinse your suit in fresh water after swimming in the pool or ocean. Chemicals found in chlorine and the salt from the ocean are known to make fabrics fade.
Hand wash your suit. Machines are generally rough on the delicate nature of swimwear and can snag padding and ties. Instead, wash your suit with cold water and a mild detergent and lay it on a towel to dry.
Avoid ringing your suit out. This may help it dry faster, but twisting the suit is rough on its seams and can stretch it out. Instead lay it on a towel and roll the towel over the suit like a sleeping bag.
Switch up your look and alternate suits. We all need our beauty rest—this allows swimwear the time to take its original shape and keeps it fresh for many sunny days to come.
PLEASE NOTE: Swimwear returned without the hygienic liner is non-refundable.